Blacksmiths and Fabricators

Blackmith services are at the heart of John Tyre & Sons. We can provide a complete and flexible range of blacksmith services to ensure that our clients get the best quality products and the best value process.
Our skilled workforce are time-served craftsmen who provide the highest quality workmanship.
Examples of the Fabrication Products and Services include:
Gates - Manual and Automated. Double and Single
Railings - Domestic and Commercial
Handrails and Balustrades
Fencing - Estate, Chainlink, Stock Fencing
Galvanizing and powder coating of products
Restoration and Repair of existing iron and steelwork
Design and build of specialist fabrication projects
Experienced in marine and diving related steelwork
Stainless steel and alloy welding
Welding consumables
Plant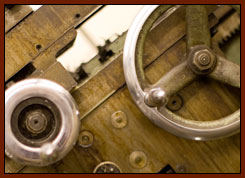 Our blacksmith division has a fully equipped 160m2 fabrication workshop with the following equipment:
MIG, MMA and TIG welding equipment
Mobile MIG, MMA and TIG welding
Plasma arc cutting equipment
Sheet folding and rolling equipment
Traditional blacksmiths forge
Separate non-ferrous workshop housing TIG welding equipment and large stock of stainless steel and aluminium.
Stock
Wide range of fasteners stocked for use in fabrication/building and marine industries.
We Stock all types of materials required in steel fabrication ensuring that our clients get fast turnaround times on projects.
Call Scott
to see how we can help you with your fabrication and blacksmiths requirements.